Pallets: The Bread And Butter Of Rustic, Chic & Unique Weddings
Who would have thought that pallets and crates would make such excellent décor material for a wedding? They do. They are indeed the hallmark for a wedding that centres around a rustic style. Barring the chic charm, the pallets bring to the décor; they are also highly practical while being cute.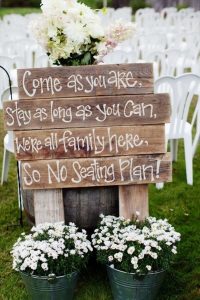 In this article, we talk about the various ways you can use pallets for your wedding.
Guest Books And Monograms In Pallets
• A guest book is a must for every wedding because it allows your guests to pen down a few words. A great way to make it exceptional is to use stained and distressed wood pallets to make the sign. The pallet sign, filled with words from guests, will be cute enough to hang in your home after the wedding celebrations are over.
• The go-to idea for wedding monograms is Initials hung on a wall of flowers or leaves. Why not get rid of the floral wall and use a pallet as a backdrop to the monogram. It is a simple idea but one that packs a punch for the whole décor.
• If you're looking to make an impression on the invitees, the minute they step on to your wedding venue, then place a pallet sign for parking! The signs will direct the guests to the right place and give them a feel of the celebrations even before they get out of the car.
Schedule, Quotes Or Photos: The Pallet Ideas Are Endless
• Every wedding needs a schedule and something on which it is printed to inform the guests. A paper itinerary is so cliched when you can have pallet sign. A practical and decorative idea, all you need is a piece of chalk to write down the what, the when and the where of each ceremony or celebration. You can even use paint to show the schedule.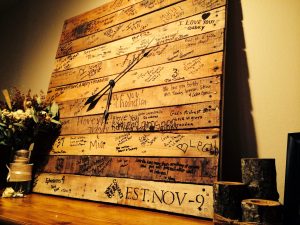 • For couples who wish a more widespread use of pallets in their wedding décor, why not paint a few quotes on small pallets and hang them around the venue. The juxtaposition of sweet words on rustic wood pallets makes for a perfect combination. If you choose the quotes personally, then you can even save the pallet signs for future use!
• Text is the dominating idea when it comes to pallet designs for a wedding. But, believe that it is not the most powerful one. A pallet as a photo display is something worth seeing. Use pallets to create an array of mementos and photos of the couple to add a vintage appeal to the wedding.Here- Check Out more info about the wedding pallet decor ideas.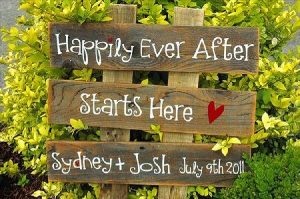 Image Credits: WeDid
There are many creative ways pallet signs can be used in a wedding. Plus finding pallets is also easy; you can order online or do it yourself!