Pallet Wood And Its Uses
Wood is a versatile product and the variety of furniture that can be made from it is simply mind-blowing. So, it is not a surprise that pallet wood is used for designing exquisite furniture. An expert from Inspace School Furniture, a leading school furniture manufacturing company, says that pallet wood can create a unique and endless opportunity to design furniture for both indoor and outdoor use. Pallet wood provides excellent construction ideas for making furniture for various purposes including classrooms, offices, restaurants, commercial and outdoor use.
School children will have to feel relaxed in a school environment. We can construct pallet wood furniture appropriate for school settings. Stylish table, small chairs, benches, chairs with desks and sitting stools can be easily made using pallet wood. We combine large and small slates of pallets to make elegant looking school furniture. We also polish and paint the furniture with vibrant colours to make it look interesting for school kids. Creative furniture will help create a fun and vibrant atmosphere in school and kids will enjoy their learning process.
Pros And Cons Of Using Pallet Wood
Wooden pallets are now increasingly used to make furniture and it is a growing trend. One of the main advantages of using pallets is that it is cheap. It is also possible that you get the pallets for free if you hunt. It is a flexible material and you can redo the furniture without upsetting your budget. Pallet woods are robust and strong. It is a great option to build sturdy and durable furniture. Wooden pallet furniture can be easily made, repaired and replaced. It is an eco-friendly product that can produce green products for the betterment of the world.
The negatives of wooden pallets are mostly unheeded or disregarded by people. Wood can be a great home for bacteria. Bacteria like the salmonella and e-coli will easily grow in them. It can sometimes be life-threatening. So, it is best to avoid the use of pallets to make tabletops, food containers and other products that are related to food. If pallet furniture is left in a damp environment it will cause fungi to grow. And, it happens pretty quickly. It has to be kept dry to protect from fungus infections. Wooden pallets are tough to maintain and clean.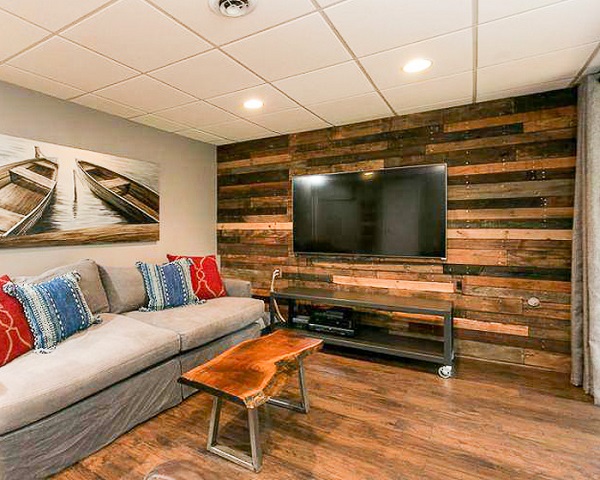 Innovative And Creative Designs Using Pallet Wood
Developing outdoor spaces and school grounds can be challenging as you never want a big-budget project yet it should look neat and good. The interest of the students has to be taken care of. Wooden pallets can be cleverly used to develop outdoor spaces by infusing it with additional features. Repurposed pallets will quickly grab attention and it will quietly add to the space some extra zing that was much needed. A 3-sided pallet structure can be used effectively actively in the play area.
Check Out – Pallet wood can be used to create different structures in the play area. Boats, planting plots and much more. Imaginative resources for the playground can be easily created using wooden pallets. A dummy play kitchen area will make the play area interesting for the kids. Flower beds made of pallet wood will be a great addition. The entrance and exit of the play area can be made using wooden pallets. Pallets can also be used to form the boundary of outer space. It will look really exquisite and beautiful.